RAYZOR
is a main character in the online comedy series
This Day Sucks
. He is portrayed by show co-creator,
Thomas Schiller
.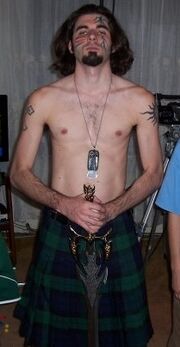 Character
Rudy's roommate and best friend, Raymond "Rayzor" Ajax Sharp is an excitable and unpredictable ticking time bomb, whose wild antics are usually the basis for his and Rudy's predicaments and adventures. An avid weapons collector, Rayzor never seems to be working a normal job – though he is known to be an absolute computer whiz, and often claims to be the "true" inventor of Google. When not immersed in his own schemes to strike it rich or pick up chicks, Rayzor often gets involved in Rudy's personal life, often adding to the problem instead of solving it. However, Ray is a loyal friend to the end, and for better or for worse, is always at Rudy's side.
As seen in The Hot Intern Rayzor has won numerous Karate trophies and must have an extensive knowledge of the martial arts.
List of Objects Rayzor has Destroyed
List of Weapons Wielded by Rayzor
TRIVIA
Rayzor always wears a bottle-opener necklace, in homage to Paul Newman's character "Cool Hand Luke" Jackson from the film Cool Hand Luke
The name "Rayzor" was based on one of Tom Schiller's favorite hockey players, goalie Ray Emery
Rayzor's face paint in The Date is loosely based off of the lightning bolt design of the face paint worn by Crazy Horse