RUDY
is the main character in the online comedy series
This Day Sucks
. He is portrayed by show co-creator, Patrick Bither.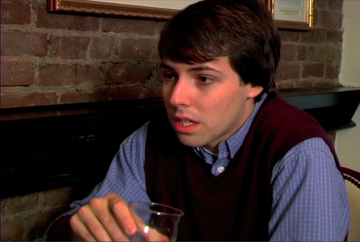 Character
Rudy is a twenty-something, down on his luck "every-dude." He is originally from New Jersey and currently lives with his long time best friend, Rayzor. Rudy works a non-descript office job in Manhattan while trying to make sense of a world that once seemed so full of possibilities. He tries to keep his interests in lavish Broadway musicals and tending to his hair hidden, so he can rock the bachelor lifestyle, but is finding out that the dream of living it up in NYC isn't as easy to come by as he had hoped. Most of his time is spent trying his hardest to do nothing at work and working on new ways to woo the ladies, however, his efforts in both respects seem to cause more harm then good. Although each day seems to be worse then the next, you can't help but root for Rudy – even if in the end, you know it's just not going to work out.
Romantic Interests
The Girl - (The Date) is a girl Rudy has had a crush on since college. He runs into her while playing football with Rayzor and with Ray's help scores a dater with her. She turns out to be Rudy's dream girl and he almost snags a threesome with her and a bartender, but in the end it all falls apart.
Amber - (The Hot Intern) is an intern at Rudy's office. He has had a crush on her, but in typical Rudy fashion, was too nervous to let her know. Finally, on Amber's last day he decides to try and get her number only to find out she likes him. Rudy promptly looses her digits and has no way to contact her.
P -(Double Date Night) is a young lady Rudy had a drunken one night stand with. He runs into her on a double-date and aborts the date to try and re-connect with the girl he knows only as 'P'. His attempts to get her attention finally cause her to berate him and leave her thinking he is a jerk.
TRIVIA
Co-creators Pat Bither and Tom Schiller wrote a lot of Season 1 at Rudy's Bar, which they often frequented, and adopted the name 'Rudy' for the character.
Rudy's field of work, company's name, and position are never mentioned.