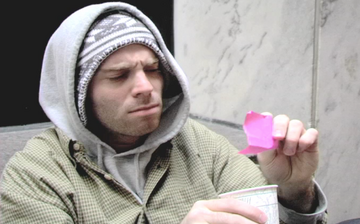 THE BUM is a minor character in the online comedy series This Day Sucks. He is portrayed by show cinematographer Tim O'Brien.
Character
The Bum appears at the end of the second episode The Hot Intern. A deliriously happy Rudy leaves work at the end of the day after getting Amber's phone number. He gives some money to The Bum and accidentally puts her number into The Bum's cup.

Little else is known about this character.
TRIVIA
The Bum appears in the show open.
He holds the 'THIS DAY SUCKS' sign that is often used as a logo for the webseries.