THE DATE
is the first webisode of
Season 1
from the comedy web series
This Day Sucks
.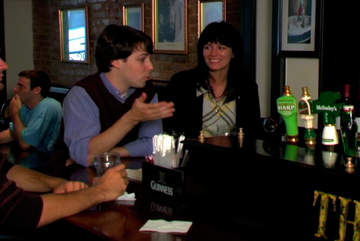 SYNOPSIS
The webisode begins with Rudy and Rayzor having a game of catch with a football one evening after Rudy gets back from work. Rudy spots The Girl, a girl he had a big crush on in college, and tells Rayzor about how he was too scared to ever approach her. Rayzor pegs her with the football forcing Rudy to speak with her. The girl remembers Rudy and suggests they hang out, Rayzor offers to babysit her 2 young cousins as they go out on their date.
The date is going great for Rudy and The Girl is turning out to be the Girl of his dreams. She loves beer, rock music, football, and cooking. Plus, she's loaded. Meanwhile, a very intoxicated Rayzor has introduced the 2 young children he's supposed to be baby-sitting to an array of drinking games, including flip cup. The date ends on a high-note as The Girl persuades a female bartender to stop by after her shift and the girls will treat Rudy to his first threesome. Back at the apartment Rayzor is wielding a sword and has the young boys fighting one another in a Circle of Death match.
When Rudy and The Girl return home from their date she is shocked to see that her cousins are both drunk and beaten up. Enraged she throws both Rudy and Rayzor out of the apartment. A second later the bartender arrives for what would have been an erotic adventure for Rudy. Rayzor shrugs off the events of the night while Rudy is left to sum everything up in three words, "This Day Sucks."
CAST
Rudy - Patrick Bither
Rayzor - Thomas Schiller
The Girl - Jessica Canovas
Maître d' - E. Matthew
Kid 1 - John Quigley
Kid 2 - Brogan Quigley
Bartender - Kate Noll
Extras - Tim O'Brien, Kyle Bossard