THE GIRL
is a character in the online comedy series
This Day Sucks
. She is portrayed by Jessica Canovas.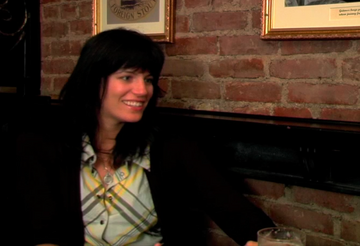 Character
The girl appears in The Date. She attended college with Rudy and the two took Chem 102 together. Although rudy never talked to her in class she does know his name and remember him. She does not live in New York City, but is there to visit her Aunt when she runs into Rayzor and Rudy. Rayzor pushes the two into a date and volunteers to babysit The Girl's cousins. She enjoys cheap beer, free hot dogs, Led Zepplin, and Jimi Hendrix. Her father is the founder of Maxim magazine making her very wealthy. Her family has a yacht and she takes vacations to tropical locations such as the Caribbean. She also loves to cook and is a sports fan with vast football knowledge, and roots for the Giants.

The Girl has a wild side to her as she hints at having a naked pillow fight and mentions she has been with girls sexually before as well as in threesomes. She also arranges a threesome with herself, a female bartender, and Rudy - though it never happens.
TRIVIA
The Girl's name is never mentioned.