THE HOT INTERN is the second webisode of Season 1 from the comedy web series This Day Sucks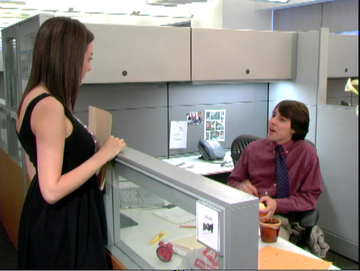 SYNOPSIS
The webisode starts with Rudy sound asleep as his alarm clock goes off. Rayzor comes into the room and tosses the clock out the window before retuning to bed. As a result Rudy wakes up late and must rush to work. Rayzor calls an annoyed Rudy who is rushing through the streets to get to his office and admits he destroyed the clock but shows no remorse or makes any attempt to apologize. Ray is more focused on shining his large collection of Karate trophies and only adds to Rudy's frustrations.

Rudy arrives at work a little discombobulated, but carries on with his regular morning routine. He chats with Russ Beef until their conversation is interrupted by the pesky office A-hole Nigel. Nigel brags about his weekend escapades and then declares he intends to get the phone number of Amber, the attractive office intern as it's her last day.

Rudy ponders over why he never mad ea move on Amber even though he has liked her all along. Beef helps to motivate Rudy that he has a shot to get her number, and with this being her last day, he has nothing to loose. Rudy attempts to do several kind deeds to win Amber over: fixing the copier for her, leaving her chocolate, and getting her coffee. Ultimately, all these gestures backfire as Nigel swoops in to steal the glory or sabotage Rudy.

A dejected Rudy is thinking about giving up when he calls Rayzor for some last minute advice. Rayzor, who is down by the East River is annoyed by a nearby street musician and smashes his guitar before continuing to give Rudy confidence and fire him up to make that final move and lay it all on the line for Amber. Ray convinces Rudy to burst into the girl's bathroom and let out all of his feelings and emotions. Rudy is hesitant at first, but Ray's enthusiasm rubs off and Rudy heads into the bathroom and professes his love. As it turns out, Amber has since left the bathroom and Rudy spilled his heart out to the janitor.

All appears lost as Rudy sees Nigel and Amber leaving together as the work day ends. As he prepares to leave in failure Amber returns to give Rudy her number and insist they hang out. An elated Rudy leaves work feeling like he is on top of the world. Blinded by his happiness he accidentally gives Amber's number to The Bum on the street as he puts some money in his cup, loosing the very number he spent all day trying to get…
CAST
Rudy - Patrick Biter
Rayzor - Thomas Schiller
Amber - Nancy Mondello
Nigel - James Murphy
Russ Beef - Russell Senk
Janitor - Mario Hernandez
Guitar Guy - Kyle Bossard
Hobo - Tim O'Brien
Extras - Kyle Liggon, Kevin Pipchick